Why Klean Gutters?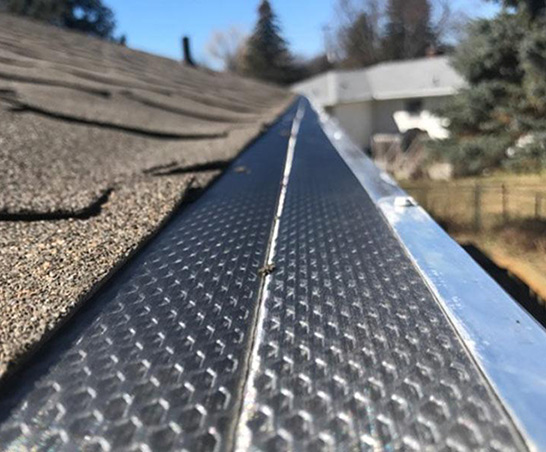 Why Homeowners Choose Klean Gutters for Life
Pitched With the Roof to Shed All Debris
Klean Gutter covers are installed pitched with the angle of your roof to shed all debris. Many other leaf filters sit virtually flat, creating a shelf where debris collects and causes constant overflow. This requires regular homeowner maintenance to clean them off.
When deciding on gutter protection for your home, remember: NEVER choose gutter protection that sits flat.
Surgical-Grade Stainless Steel Micro-Mesh Construction
Klean Gutter leaf guard is a surgical-grade 316L stainless steel micro-mesh with holes that are only 70 microns in size. Not even a grain of sand can fit through, which allows nothing but water into your gutters while keeping out all debris.
When debating on a leaf guard for your home, remember: NEVER choose a cover that has holes, gaps or louvers. These types of gutter covers allow large amounts of debris to enter the gutters and/or get stuck, causing water to back up, overflow and cause damage to your home.
Customizable to Fit Every Home
Unlike many gutter cover products, ours are not a one-size-fits-most approach. Klean Gutter is the only customizable gutter protection available on the market, with over 70% more filter area. Our gutter cover installers can custom-fit your Klean Gutter to mount to your fascia and the nose of the gutters. Klean Gutter protection works on any traditional five-inch and six-inch gutters, but does not tamper with your roof or its warranty.
When deciding on gutter covers, remember: no two houses are the same, but most covers are one-size-fits-most. That makes the performance sub-standard because it cannot adapt to your home's custom needs.
Patented Aluminum Attachment
Our patented banding and custom-expanded frame are a perfect blend to fasten to your home's gutters and fascia. Plastic, vinyl and UPVC products expand and contract in changing temperatures. When they are fastened to aluminum, they will buckle, warp, bow, fade and begin to fail within a couple of years. Seventy-five percent of all aluminum ever made is still in use today, while our landfills continue to be burdened with millions of pounds of plastic every month.
Patented Wicking-Dips Draw Water into the Gutter
The wicking-dips stop the forward momentum of water and use mega capillary action to draw all water down into your gutters. This is unlike other mesh-screen gutter covers that have a pitch to them, allowing water to frequently overflow the front of the gutters.
Ice Issues? Klean Gutter Guards Can Be Heated
Klean Gutter guards can be heated with heating elements for homes that have existing icing issues. Many older homes and architectural designs naturally cause ice to form on overhangs. When ice fills your gutters, it can lead to the most destructive form of water damage. Not only does the Klean Gutter mesh prevent your gutters from filling with ice in the winter, we can also add a heating system to keep ice melting and flowing through the gutter system and safely away from your overhang areas.
Avoid Overfill Without a Splash Guard
Inside corners with valleys are the biggest challenge in the gutter industry. The most common solution is called a "splash guard." Our patented Inside Superman Pan is installed in lieu of a splash guard and extends the catch area by over 40%, which eliminates the need for a splash guard while still preventing overflow of the high-flow valleys. Our patented Inside Pans are color-matched to your gutters, are virtually unnoticeable from the ground and are the absolute best solution to this very common problem.
No Glue or Caulk
No glue or caulk is needed to keep Klean Gutter micro-mesh attached due to our patented crimping and fastening process. It's unlike most "channelized" gutter covers, where caulk, butyl sealant or glue are needed to hold the screen in the frame. Klean Gutter will never fail due to the breakdown of these adhesives.
Completely Sealed System
Our completely sealed system prevents debris from getting in. Unlike helmet-style gutter guards installed by other gutter cover installers – where bees and insects can nest underneath and stay sheltered from the elements – nothing can nest inside your gutters once Klean Gutter Leaf Guard has been installed.
High-Flow Mesh Also Available
Extremely high-flow areas are no problem for Klean Gutter High-Flow Mesh. Made of the same 316L surgical-grade stainless steel mesh but with over 30 micron hole systems, these panels are perfect for the most extreme cases. Some homes have very large, long roof lines where massive amounts of water run off the roof. Only Klean Gutter is proven to meet the task of filtering all this water into your gutters without overflow. Our leaf filter contractors know when this is the right application for a home or business.
The Only Authorized Installer of Klean Gutter™ Leaf Guard
Klean Gutters Midwest INC is the only company in most of Michigan, northern Indiana and northern Ohio authorized to install the Klean Gutter Leaf Guard system. We've proven our dedication to superior customer service and quality workmanship since 2014, when we began installing this outstanding product.
We stand behind our work and won't ever install gutter covers on a gutter system that's not in good condition. If yours needs replacing or repair, we offer total water management solutions including repairing and replacing soffits, fascia, downspouts, gutters, pop-ups and other drainage system parts.
Contact Us
If you're looking for gutter cover installers who can install a top-grade product that really works, call Klean Gutters Midwest INC at (855) 974-4669 or fill out our contact form. We're a locally-owned and -operated company that accepts all insurance claims. Zero-interest financing is available, too.