Gutter Guards From the Leading Gutter Guard Installers
There are many gutter guard installers you can hire. In fact, you can even buy an inexpensive product at a home improvement store and install it yourself. However, not all gutter guards are created equal and not all leaf guard installers are the same. If you want a superior product installed professionally, call Klean Gutters Midwest INC.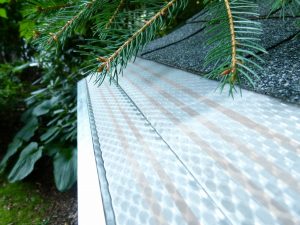 Our high-quality product: 
Pitches with the roof to shed all debris

Is made from surgical-grade 316L stainless steel and CopperCare™ micro-mesh

Will not rust

Will not corrode

Prevents organic debris from growing & sticking

70 micron holes are smaller than a human hair

Keeps all debris out of gutters

Is customizable to every home

Doesn't tamper with the roof or roof warranty

Mounts to fascia & nose of gutters for no more blow-offs

Custom-bent on site – NOT one size fits most

Makes gutters 10 times stronger

Works great with every type of roofing material (asphalt, rolled steel/pole steel, standing seam, stamped stone coated metal roofing, cedar shakes, slate and tile, rubber membrane, corrugated, copper, painted or sprayed-on liner type)

Has an aluminum frame that will not expand or contract in changing temperatures
Product History & Patents
Gutter guards come in many designs, from those that sit in the gutter to those that install on top of the gutter. Some are made of plastic, others of foam or metal. Their construction varies from covers with small openings like a window screen to large, solid hoods that cover the gutter. Different gutter guard installers will tell you why their product is better than the competition.
Klean Gutter™ Leaf Guard, when installed by our factory-authorized leaf protection installers, is superior for several reasons, including those listed above. Our product was invented by Alex Higginbotham, who is also the inventor of other well-known products like Leaf Filter®, Leaf Solution® and Master Shield®. Klean Gutter is his newest technology, and we take Alex Higginbotham's commitment to advancing the field seriously.
In accordance with Section 287(a) of Title 35 of the United States Code, the reader is hereby placed on notice of MGP Manufacturing LLC and Edward Higginbotham's rights in the United States Patents listed on this site and associated with these gutter guard products.
Patents:
US 6,951,077
US 7,174,688
US 8,006,438
Klean Gutter's heating methodology is patent pending. Several other features of Klean Gutter are also patent pending.
Contact Your Authorized Klean Gutter™ Leaf Guard Installers
Since 2014, Klean Gutters Midwest INC has been the exclusive Klean Gutter™ Leaf Guard installer serving most of Michigan, northern Indiana and northern Ohio. We accept all insurance claims for fascia and soffit repair as well as gutter and gutter guard installations. Plus, we offer total water management solutions for your home. If you need financing, we have several zero-interest options. Call us at (855) 974-4669 or fill out our contact form and see why we advertise and deliver on our promise of "Klean Gutters For Life."