GUTTER GUARD & GUTTER INSTALL CONTRACTOR IN ADA, MI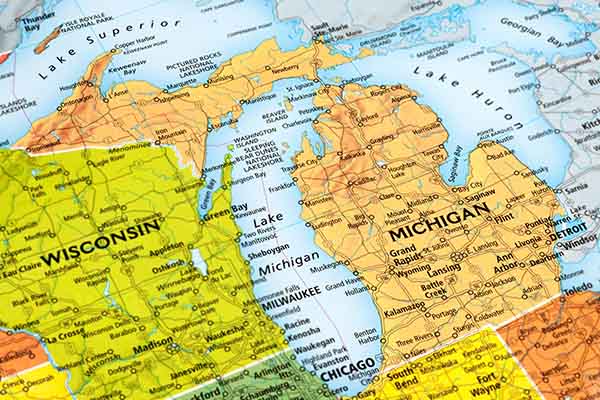 Protect your home and yard with a properly running gutter system. The rainwater that runs off of your roof is collected by your gutter system and carried away from your home and foundation to prevent damage. Without a gutter system, the runoff rainwater can flow down the side of your house and cause the woodwork to rot. Water can also pool around your home, wash away the soil and landscaping, seep through your foundation and damage the interior of your home. It can also cause massive structural issues to the house!
INSTALLING GUTTER PROTECTION SYSTEMS IN ADA
Klean Gutters Midwest can help you avoid water damage and remove the need to keep cleaning out your gutters. By installing hooded gutters or gutter guards, we can keep your gutters permanently clear of all debris and buildup! Our gutter protection systems allow water to flow into the gutters while keeping out all leaves, branches and roofing debris. Property owners all across Ada are experiencing easier lives because of our high-quality products and services, so reach out to learn more about:
Covered Hood Gutters
Gutter Guards
CONTACT ADA'S LEADING LEAF PROTECTION INSTALLERS
If you need leaf protection installers, contact Klean Gutters Midwest. We're a family-owned and -operated company that believes in doing the job right every time. Because all our installers are employees, we've trained them how to properly install all of our products: seamless aluminum gutters, copper gutters, drainage systems and water catchment systems. Our goal is your satisfaction!
We offer zero-interest financing and accept all insurance claims. Because we know that clean gutters are just as important to condo developments and apartment buildings, we also offer our services to both organizations and small businesses. If you don't want to go through the headache or expense of cleaning your gutters again, call the only authorized leaf protection installers for the Klean Gutter™ Leaf Guard system. Contact Klean Gutters Midwest at (855) 974-4669 or fill out our contact form.