COPPER & ALUMINIUM GUTTER INSTALL CONTRACTOR IN SAINT JOSEPH, MI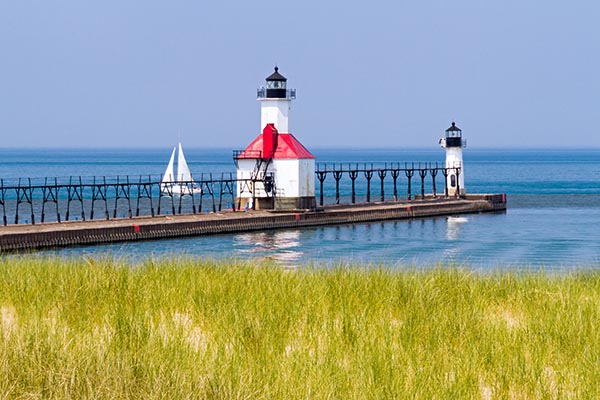 Having a properly running gutter system is one of the easiest ways to protect your home and yard. The rainwater that runs off your roof is collected by your gutter system and carried away from your home and foundation, but without a reliable gutter system, the runoff rainwater can flow down the side of your house and cause extensive structural damage. Water can pool around your home, erode the soil, seep through your foundation and damage the interior of your home.
PROFESSIONAL ROOFING GUTTER INSTALLATIONS FOR SAINT JOSEPH
Klean Gutters Midwest INC can help you avoid water damage by installing high-quality hooded gutters or gutter guards. Our gutter protection systems allow water to flow into the gutters while still keeping out all leaves, branches and roofing debris. Our gutter protection can give you a maintenance-free, dependable system to help your home avoid water damage! Klean Gutters Midwest INC also installs:
Aluminum Gutters

Copper Gutters

Covered Hood Gutters

Gutter Guards
THE SOUTHERN LAKESHORE'S LEADING GUTTER COVER INSTALLERS
When you need the best gutter cover installers, look no further than Klean Gutters Midwest INC. We've been installing quality gutters, gutter covers and water drainage systems throughout the Saint Joseph and Benton Harbor area since 2014, so don't hesitate to call for your free quote!
OUR SERVICES
If it has to do with drainage on or around your home, Klean Gutters Midwest INC can help. Our services include:
Fascia & soffit repair when we install gutters or gutter covers

Underground drainage & pop-up design & installation

Klean Gutter™ Leaf Guard system installation
We stay busy as gutter cover installers, but if you don't have a proper gutter system or your fascia is rotting, we will make that right before installing your new gutter covers.
WHY CALL Klean Gutters Midwest INC
There are many gutter cover installers around, but they can't install patented and guaranteed products from Klean Gutter Leaf Guard. We are the only authorized installer for these products on the Southern Lakeshore. In 2014, after spending 25 years working for other gutter cover companies, we realized that not all gutter protection does the job it should. But when we found the Klean Gutter Leaf Guard solution, we knew we'd discovered the best product to keep your gutters clean!
Our entire team is made of company employees. We stand behind our work, and you'll never have day laborers installing your new gutters or gutter covers. The product also comes with a lifetime guarantee, so you can have "Klean Gutters For Life." In fact, our mission statement goes beyond just clean gutters; it states:
It is Klean Gutters Midwest INC's mission to provide the highest quality water management solutions and customer service experience to all of our customers.
CONTACT US TODAY
If you want clean gutters, contact Klean Gutters Midwest INC. We accept all insurance claims and offer no-interest financing. Call us at (855) 974-4669 or fill out our contact form to learn more.