GUTTER GUARD INSTALLATION & GUTTER REPLACEMENT CONTRACTOR IN DIMONDALE, MI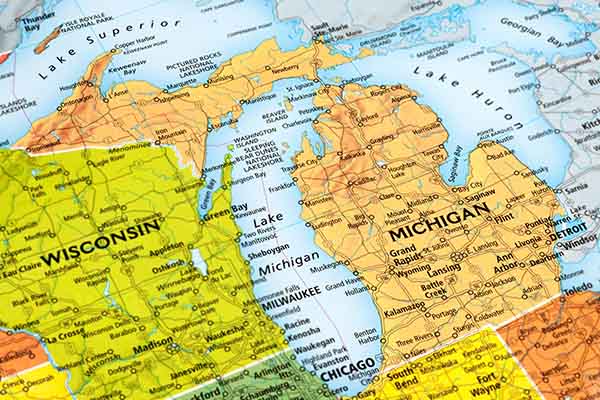 One of the best ways to protect your home and yard is to install a properly running gutter system. A gutter system collects the rainwater that runs off your roof and carries it away from your home and foundation. Without a gutter system, that runoff rainwater can flow down the side of your house and rot the woodwork. Water can also pool around your home, wash out the soil, seep through your foundation and damage the interior of your home. It can also cause massive structural issues to the house!
INSTALLING GUTTER PROTECTION SYSTEMS IN DIMONDALE
Klean Gutters Midwest INC can help you avoid water damage and eliminate the need to clean out your gutters. With the use of hooded gutters or gutter guards, we can keep your gutters permanently clear of all debris and buildup! Our gutter protection systems allow water to flow into the gutters while keeping out all leaves, branches and roofing debris. Our gutter systems have helped property owners all across Dimondale, and we'd love to install a gutter system that helps you, too. 
Klean Gutters Midwest INC installs these types of gutters:
Covered Hood Gutters
Gutter Guards
YOUR AUTHORIZED KLEAN GUTTER™ LEAF GUARD INSTALLER
When it comes to gutter protection, Klean Gutter Leaf Guard will keep your gutters protected better than any other product. Its patented design and stainless-steel construction will help this system last a lifetime. Whether you need new gutters along with gutter protection or you just want us to be your leaf guard installers, call Klean Gutters Midwest INC for your free estimate.
We help homeowners, apartment complexes, condominium associations and businesses with their water drainage and gutter protection needs. If you need financing or have an insurance claim, we can also help with that. We're a family-owned and -operated company that truly cares about our customers, and it's our goal to provide only quality products and the highest level of customer service. Call us for your free estimate at (855) 974-4669 or fill out our contact form.