PROFESSIONAL GUTTER CONTRACTOR PROVIDING INSTALLATIONS & GUTTER PROTECTION SERVICES IN MUSKEGON, MI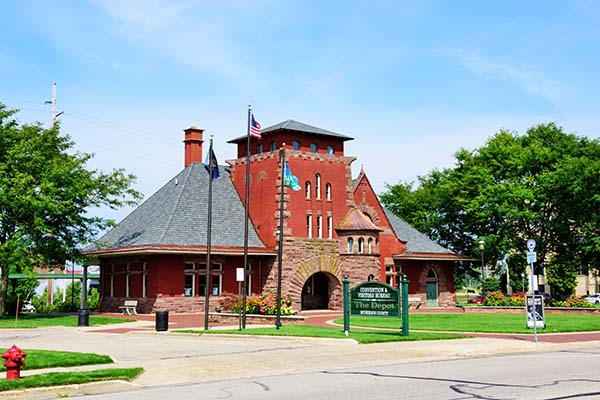 If you own a house, protecting your property is one of your highest priorities. Gutters often go ignored while the home's siding or roof are focused on, but a properly running gutter system is just as important to protecting your home and yard. The rainwater that runs off your roof is collected by your gutter system and carried away from your home and foundation, but without a gutter system, the runoff water can flow down your house's siding and cause it to rot. After that, water can pool around your home or wash out the soil from under your foundation. This can cause water to seep through your foundation, damage the interior of your home and cause massive structural issues.
Klean Gutters Midwest INC installs these types of gutters in Muskegon:
Covered Hood Gutters

Gutter Guards
INSTALLING GUTTER PROTECTION IN MUSKEGON
Once a gutter system is installed, you still can't forget about it. It will continue to require regular maintenance. Even if you don't live in a wooded area, there is still the potential for debris to clog your gutters. Not only do leaves, twigs and pine needles end up in your gutters, but pieces of shingles and their granules can, as well. If your gutters become filled with sediment and debris, they will no longer be able to function. Rainwater will back up in the gutters and seep up under your roofing materials, causing roof leaks and damage to the decking. Water can also flow over your gutters and damage your home and property.
If you want to prevent property damage and keep your gutters clean, you'll have to do regular cleanings. Sometimes this job will need a ladder or require you to climb up on the roof. This is dangerous and may not be an option for many homeowners, but Klean Gutters Midwest INC can help you avoid cleaning your gutters completely. With the use of hooded gutters or gutter guards, you can keep your gutters permanently clear of all debris and buildup! Our gutter protection systems allow water to flow into the gutters, but keep out all solid matter. Property owners all across Muskegon are finding out how much easier their lives can be after having gutter protection installed!
Contact Klean Gutters Midwest INC for a free estimate to find out how you can better protect your home and property from the elements!
LEAF PROTECTION INSTALLERS SERVING PROPERTIES THROUGHOUT MUSKEGON & GRAND HAVEN
Are you tired of cleaning your gutters? Then contact Klean Gutters Midwest INC and schedule service with our leaf protection installers. We install Klean Gutter™ Leaf Guard products that will protect your gutters for a lifetime and eliminate the need to ever clean your gutters again, so call for your free estimate!
WHY KLEAN GUTTER™ LEAF GUARD?
There are many options when it comes to leaf guards and gutter covers, but Klean Gutter Leaf Guard is different. Its patented technology installs on your fascia at the same angle as your roof. That means any debris from your roof continues down over the gutters and onto the ground, all while water filters through the surgical-grade stainless steel micro-mesh. And because Klean Gutter Leaf Guard doesn't attach to your roof or go under your shingles, your roof's warranty isn't impacted.
ABOUT Klean Gutters Midwest INC
Klean Gutters Midwest INC is the area's only authorized leaf protection installer for Klean Gutter Leaf Guard. That's because we do it right! We know that each system is properly installed because only our trained staff does the installation. With 25 years of experience installing gutters and gutter covers, we selected Klean Gutter Leaf Guard as our product of choice because it's truly superior. And they partner with us because we're a superior company. In fact, our mission statement reads:
It is Klean Gutters Midwest INC's mission to provide the highest quality water management solutions and customer service experience to all of our customers. And since 2014, Klean Gutters Midwest INC has been doing just that. We're family-owned and -operated and we care about our reputation. In fact, our owner, Kirt Harold, speaks to every customer. If there's ever a concern, he addresses it personally.
OUR SERVICES
Our services go beyond our leaf protection installations. We also install seamless aluminum gutters and copper gutters and repair fascia and soffits. If you need repair or improvements to your drainage system, we can help by installing a better solution or repairing your pop-ups. We also offer water catchment systems for rainwater harvesting.
CONTACT US
Call Klean Gutters Midwest INC at (855) 974-4669 or fill out our contact form for your free, no-obligation estimate. We offer no-interest financing and accept all insurance claims.